Duke offensive lineman reflects on journey to reach NFL audition; plus reactions from Duke's departing defensive stalwarts in the middle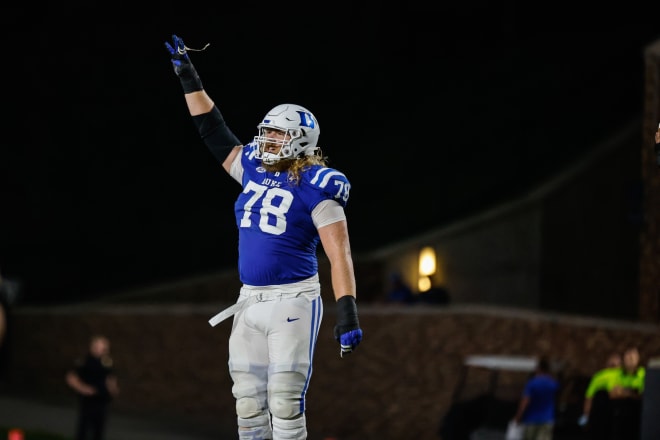 DURHAM – Chance Lytle has gone to every Pro Day he's had a chance to attend.
Of course, all of the previous ones were at Colorado. And the other change with Monday afternoon's Pro Day at Duke was Lytle was going through it as a prospect instead of being an observer.
"I've been waiting for this day since I first started in college," Lytle said. "It was kind of surreal to be a part of it."
The 6-6, 314-pound offensive lineman was one of nine former Blue Devils participating in Pro Day on Monday in Duke's Pascal Field House. All 32 NFL teams sent at least one representative to Duke.
There's another surreal factor at work here for Lytle.
Lytle stopped short of saying he contemplated quitting football before transferring, but acknowledged that the ups and downs of his five years at Colorado were a lot to handle.
He had three head coaches, five offensive line coaches and suffered multiple injuries across those five seasons.
"It's a lot to go through, especially when coming out as a high schooler, you have a lot of expectations," Lytle said. "And then the program that you're with didn't necessarily meet those expectations — nothing against the program, but they were just going through tough times."
Lytle's transfer to Duke was not possible without him going through a thorough vetting process of portal suitors.
"I loved it too much to just give up on it," Lytle said. "As those feelings came up, 'Do I hang them up?' I just knew that it wasn't me. … I just love this game. This is everything to me.
"I looked at all the people who called me (while in the portal), I asked a lot of questions to make sure it was the right environment for me. And then I got in touch with Duke and they made me feel even more in love with it. … Yeah, there were times that were low. But that's not where I'm at now."
It meant a bit more to Lytle that he was going through Pro Day with the offensive lineman he visited Duke with when both were in the portal, as Andre Harris Jr. also went through the workout and drills. Harris transferred in after spending five seasons at Arkansas State.
Lytle (773) and Harris (744) played the third- and fourth-most snaps of anyone on Duke's offense last season, per PFF. They wound up anchoring the right side of Duke's offensive line for the majority of last season.
"I met Dre on my official visit and he was kind of going through a similar journey of leaving a semi-established program and it was kind of not going the way he wanted to," Lytle said. "He was creating a new opportunity for himself, which is why I came here."
**********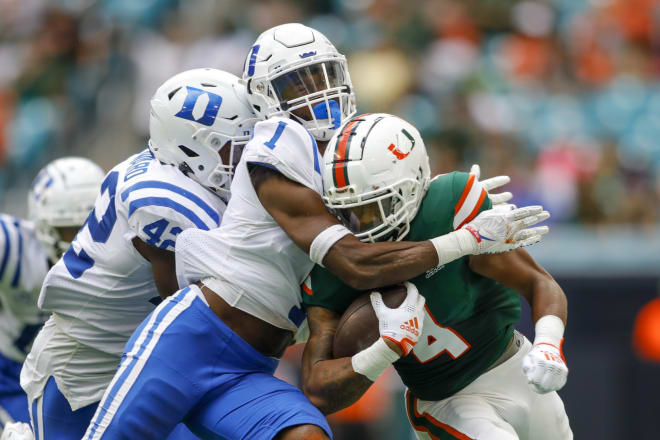 Joiner makes an impact
There will come a time for Darius Joiner to reflect on his football journey, one that's seen six seasons in college, five of those on the FCS level before he helped rejuvenate Duke last season.
If you thought Monday's Pro Day would be the time for that reflection, though, you're wrong.
"I don't think I have time to reflect right now, I'll reflect in like 30, 40 years," Joiner said, "when my whole career is over with."
Joiner came to Duke after one season at Western Illinois, where he had a great statistical season — 142 tackles, seven TFLs, one interception, five passes broken-up — and his team was 2-9.
Before that, he was at Jacksonville State. Joiner played in 27 games for the Gamecocks across four seasons, starting four games and recording 80 tackles.
The 6-foot, 201-pound safety led Duke with 97 tackles last season. Joiner played 989 snaps, the most of any player on Duke's defense, as he slotted into the secondary as a starter after joining the program over the summer.
"I feel like a lot of people don't respect Duke the way they should because they say we have a great basketball program and all of this and that," Joiner said. "But we're trying to just, Shaka (Heyward) and I and everyone else here, we're trying to go to the NFL and show them that Duke has talent and we can play with everybody."
Joiner's profile is such that without spending a season at Duke, proving himself on the Power 5 level, and without having the extra season of eligibility because of the NCAA's blanket waiver for the 2020 season, he would've faced stiffer odds to make the NFL .
He still faces stiff odds, to be clear. Joiner wasn't a combine invite, so Pro Day became his shot to make a lasting impression on NFL personnel.
"It's just a relief, getting out here and getting it over with," Joiner said of Pro Day, having been training in Florida for the last three months. "I'm just glad that they came and I could show what I could do."
**********
Heyward does light work
Duke's lone representative at the NFL Combine last month didn't need to do much at Pro Day.
Shaka Heyward only went through individual drills Monday, having tested well in Indianapolis.
"Just in case the scouts had any kind of second questions, second guesses about me," Heyward said, "just wanted to prove to them I'm a fluid linebacker who can move any kind of way, move like a DB."
Heyward is the most likely Blue Devil to be drafted after spending the past five seasons at Duke. He's 13th in program history for career tackles (340).
There are two keys for Heyward, seemingly, in moving into the NFL: He'll have to prove his value on special teams, and he'll have to prove his ability to defend running backs and tight ends in pass coverage.
That's why the individual drills he went through Monday were mostly geared around moving in space, mimicking changes in direction in coverage.
"I got good feedback from the Combine, so I just wanted to show it again that this is what I can do," Heyward said.
The 6-3, 235-pounder ran a 4.53-second 40-yard dash at the Combine, along with a 31-inch vertical jump and 22 reps of 225 pounds on the bench press. It adds up to an athleticism score of 77, per nfl.com, which is 12th among linebackers at the Combine this year.